The James Beard Foundation, Lubo Lefebvre, and Soliste have a special dinner at the JBF House: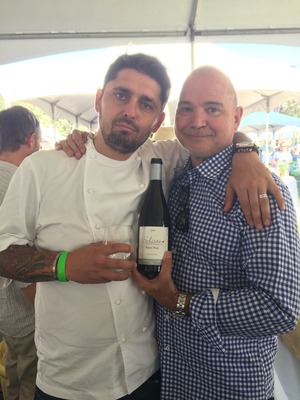 Ludo Lefebvre
Ludo Bird, Petit Trois, and Trois Mec, Los Angeles
Unanimously praised as among the best new restaurants to open in L.A. last year, Trois Mec sealed Ludo Lefebvre's reputation as one of the country's most exhilarating chefs. You won't want to miss this Beard House event, which will highlight the creativity that abounds in all of Lefebvre's concepts. And what better way to show off this Burgundian's cooking than by inviting kindred spirits? The former chef-turned-vintner Claude Koeberle and partner Donald Plumley bring a selection of pairings from their lauded Soliste Cellars in Santa Rosa, CA to whet our appetites.
MENU
Hors d'Oeuvre
Fried Tapioca with Parmesan and Exotic Fruits
Garlic Bread Chicken Wings with Tandoori Powder
Herb Tarts with Hazelnut Praline
SOLISTE SOLEIL ROUGE ROSÉ DE PINOT NOIR 2012

Dinner
Salted Cod with Sushi Rice, Avocado, and Lime
SOLISTE ST. ANDELAIN SAUVIGNON BLANC 2011
Beef Carpaccio with Smoked Yogurt, Black Walnuts, and Grilled Eggplant
SOLISTE NOUVEAU MONDE PINOT NOIR 2012
Potato Pulp with Soubise, Salers Cheese, Dried Bonito, and Brown Butter
SOLISTE L'ESPÉRANCE PINOT NOIR 2012
Duck with Charred Cabbage, Fennel, Duck Skin Purée, and Candied Almonds
SOLISTE OUT OF THE SHADOWS SYRAH 2009
Apple Butter with Crème de Brie, Toasted Barley, and Hay
SOLISTE SPECIAL DESSERT WINE EXPERIMENT >
LATE HARVEST SEMILLON BARREL SAMPLE NV
The Beard House
Date: Saturday Nov 22th
Dinner: 7:00 PM
Price: $250 per person
RSVP: 212.627.2308
---
Marché Moderne
Date: Wednesday Nov 12th
Reception: 6:00 PM ; Dinner: 6:45 PM
Price: $165 per person
RSVP: 714.434.7900
---
November 8th, 2014 at the Honda Center in Anaheim, California. Tickets and more information.
---
We are delighted to announce a very special private Soliste dinner at Piora:
Piora Restaurant
Wednesday October 22nd
Reception 6:45; Dinner 7:30
$225 per person (tax/tip not included)
RSVP 212.960.3801
---
Soliste Wine Dinner - Charlie Palmer Steak
THURSDAY, OCTOBER 10, 2013, 6:30 PM
101 CONSTITUTION AVE NW
WASHINGTON, DC 20001
6:30 pm | Reception 7:00 pm | Dinner $100 per person (excludes tax / gratuity)
RSVP | 202.547.8100 | reservationsDC@charliepalmer.com
MENU
Amuse
Foie Gras Mousse
Chamomile Cinnamon Puff, Apple Candy
Duo of Yellow Fin Tuna
Spice Crusted, and Tartare
Baby Beets, Pistachio, Preserved Lemon, Crisp Potato Wafer
2011 Soliste, Lune et Soleil, Lake County
George's Bank Scallop
Butternut Squash, Mizuna, Quince, Spiced Marcona Almond
2010 Soliste, L'Age D'Or, Chardonnay, Russian River Valley
Tasting of Pappa Weavers Pork
Crisp Tail, Cheek Crepienette, Confit Belly
Poached Seckle Pears, Chestnut, Parsnip
2009 Soliste, Narcisse, Sonoma Coast
Degustation of Roseda Farms Beef
Roasted Strip Loin, Braised Short Rib, Tongue Pastrami, Crisp Marrow
Cauliflower, Swiss Chard, Potato Mille-Feuille
2009 Soliste, Sonetera, Sonoma Coast
2010 Soliste, Nouveau Monde, Sonoma Coast
Chocolate Pavé
Hazelnut, Carrot, Raisin, Ginger "Anglaise"
2009 Soliste, "Out of the Shadows," Syrah, Bennett Valley
---
A Winter Wine Wonderland: Tocqueville Restaurant's Soliste Wine Pairing Dinner
Tuesday, December 4th from 6pm to 10pm, Tocqueville Restaurant (1 East 15th Street, 212-647-1515, www.tocquevillerestaurant.com) will be offering a sumptuous Winter Wine Dinner ($225 all inclusive) with wine pairings from the Soliste Cellars.
Chef Jason Lawless has created an exquisite four-course meal, including Tocqueville's signature Seared Diver Scallops and Foie Gras and Roasted Wild Scottish Pheasant with homemade sausage, green cabbage, chestnuts and black truffle jus, which will be expertly paired by their new Beverage Director and Master Sommelier Roger Dagorn.
Reservation can be made by calling 212-647-1515, but you better act fast as seating for this unique wine filled dinner is limited!
SOLISTE WINE DINNER
Chef Jason Lawless
Tuesday December 4th 2012
$225 all Inclusive
Lightly Cured Japanese Yellowtail Sashimi and Tartar
Grilled Hearts of Palm, Golden Apples, American Caviar and Pomelo Citrus Broth

Sauvignon Blanc 'St.Andelain' Lakecounty 2010

Chardonnay 'L'age d'Or 'Russian River Valley 2010
~~~~~~
Seared Diver Sea Scallops and Foie Gras
Wild Mushrooms, Braised Artichoke and Cider Vinegar Gastrique

Pinot Noir 'Nouveau Monde' Sonoma Coast 2010

Pinot Noir 'L'esperance' 2010
~~~~~~

Roasted Wild Scottish Pheasant
Housemade Sausage, Green Cabbage, Chestnuts, Hedge Hog Mushrooms And Black Truffle Jus

Syrah 'Out of The Shadows' Bennet Valley 2009

Pinot Noir 'Foret' Sonoma Coast 2010

~~~~~~
Mature Epoisse Poached Seckle Pear, Andrews Roof Top Honey, And Marcona Almonds

Rose De Pinot Noir 'Soleil Rouge Sonoma Coast 2011
---
Soliste Mentions and News